The Mustache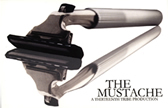 Chicago Reader, December 24, 1999
Chicago Tribune, December 15, 1999
Chicago Free Press, December 22, 1999
Windy City Times, December 30, 1999
Chicago Sun-Times, December 22, 1999

Chicago Reader, December 24, 1999
I can recall few Chicago productions as compulsively fascinating as this adaptation of neogothic French author Emmanuel Carrère's surrealistic novel. The story is utterly unpredictable yet fiendishly logical as the unnamed hero (played to perfection, with an amiable sort of Tony Perkins neurosis, by Mark St. Amant) first suspects his wife and colleagues of playing a practical joke, then questions his wife's sanity–and his own–and finally seeks escape in Hong Kong, of all places.
Directed and adapted with commendable precision and confidence by Katie Taber, the serpentine narrative takes the path of a particularly vivid dream, echoing the works of such artists as Franz Kafka, Alain Robbe-Grillet, and Luis Buñuel while exploring our tenuous hold on the fragile realities of our lives. Virtually every element in Thirteenth Tribe's hallucinatory production, from Ginger Farley's haunting, witty choreography to Mike Frank's alternately soothing and propulsive sound design to Joanna Settle's minimal yet evocative set and lighting, is both wonderfully imaginative and absolutely professional. This is an uncommonly, even dizzyingly daring, thought-provoking and entertaining 100 minutes of theatre.
- Adam Langer -

Chicago Tribune, December 15, 1999
Emmanuel Carrère is not widely known in the United States. Even though he has been promoted as "the Stephen King of France," only two tales by this contemporary Parisian writer have been translated and published in the United States. One is a gruesome story of kidnapping called "Class Trip," and the other is "The Mustache," a metaphysical story that proceeds from the hero's radical decision to shave off the hair above his mouth.
Thirteenth Tribe, one of Chicago's more progressive fringe troupes, persuaded Carrère to allow Katie Taber to both dramatize and direct The Mustache, which opened Monday night at the Athenaeum Studio Theatre. The resultant show is a rather bizarre but nonetheless engaging theatrical stew that seems to have been simmered stylistically with equal amounts of Kafka, Camus, David Mamet's "Edmond" and the movie "La Femme Nikita."
With the help of a terrific lead performance from Mark St. Amant (as M), Taber has forged a slick and precise production with lots of stimulating visual tricks and deftly forged minor characters created with precision by David Divita and Doran Schranz. Despite the small space, designer Joanna Settle has created a fascinating tactile environment with the use of lots of non-traditional materials, all of which are lit with great precision.
This is a smart, provocative and quite haunting show that not only introduces a new writer but does so with great panache. If christmas drives you crazy anyway, be careful here. This might be the mustache that broke the camel's back.
- Chris Jones -

Chicago Free Press, December 22, 1999
Concepts of identity and insanity dance wildly around the stage in The Mustache, a disconcerting play packed with beautiful images and enthusiastic performances that's about the farthest thing from holiday fare you could imagine.
In this world premiere adaptation of Emmanuel Carrère's novel, the psychic savages of Thirteenth Tribe plunge the audience into a world where nothing can be trusted, not even what you've witnessed with your own eyes.
In an exhaustingly athletic performance, St. Amant pulls off the demanding job of inhabiting a character with whom the audience must identify in spite of the fact that he's probably crazy. (M does begin all too quickly to imagine his wife building a conspiracy against him.) DeAcetis likewise deftly portrays Agnes, ranging from mischievous to evil to overwrought, with a continually shifting perspective.
Visually, aurally and kinetically, director Katie Taber and her crew excel at creating mood, from M's increasingly frenzied psychological distress to the soothing respite of a beach. Designer Joanna Settle's spare but versatile set makes excellent use of a small space, and the movement is beautifully handled by Ginger Farley in a play more choreographed than some musicals.
The synergy of these many elements, along with the fascinating questions raised, will likely live in your head long after The Mustache ends.
- Web Behrens -

Windy City Times, December 30, 1999
Backed by Mike Frank's painterly sound design, social rituals are conducted in nimble-footed quadrilles as giddy as a Caulder mobile, while connubial love is consummated in adagios choreographed like slo-mo wrestling matches. Beds convert to drafting tables and bathtubs to sampan ferries in seconds, props are velcroed to the walls and plucked off as needed–and don't forget the crop of subnasal whiskers that must be grown and harvested in full views of the audience twice in the course of the play's action.
- Mary Shen Barnidge -

Chicago Sun-Times, December 22, 1999
Thirteenth tribe transfers the surreal paranoia of the lead character in The Mustache to the audience in its world-premiere staging of Emmanuel Carrère's maddeningly metaphoric novel.
Taber directs this deceptively uncomplicated piece with semi-stylized grace capable of infusing fluid mystery into its mechanistic aura. Choreographer Ginger Farley's tantalizingly serpentine but sudden jerky movements add to the production's edgy irony.
Mark St. Amant's tortured M remains a sturdy presence whose integrity remains intact even as he gives in to the quietly threatening forces around him. He manages to move through a phantasmagoric haze on solid footing–an impressive theatrical achievement. He is well paired with Anne DeAcetis as a sweetly diabolical Agnes.
This impeccably crafted production revels in the unbearable inner pain of silent torment. Thirteenth Tribe transforms The Mustache into a tonsorial nightmare where collective indifference stings sharper than a razor.
- Lucia Mauro -