How To Be Sawed In Half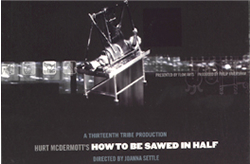 TheatreChicago.com, August 26, 2000
New City, August 31, 2000
Free Press, September 6, 2000
Chicago Sun-Times, August 30, 2000
Chicago Tribune, August 25, 2000 (preview)
Chicago Sun-Times, August 25, 2000 (preview)

TheatreChicago.com, August 26, 2000
There are plenty of fun moments, and the magic tricks were drawing gasps from the audience the night I attended. The costumes and set are stunning, and both actors are on top of their game; there is enough strength in the performances and visuals to recommend this show.
There are more than a few parallels between sleights-of-hand masquerading as extraordinary things and truly extraordinary things masquerading as banal, everyday occurrences. By pairing an aging, mediocre magician named Prospero (George A. Wilson) with a cunning, youthful assistant called Calibana (Rachel Sledd), McDermott provides the framework for an exquisitely original meditation on the power of everyday manipulations and astounding feats of brazen rebellion.
- Catey Sullivan -
The characters' reality is reflected by our real-life setting, as Thirteenth Tribe, in a coup, secured not one of the Athenaeum's tiny studios but its grand, beautiful mainstage, which seats almost 1,000. Director Joanna Settle makes excellent use of this excellent opportunity, fully utilizing the balcony boxes, trap doors and fly spaces such a theatre possesses.
As the aging, addled Prospero, George A. Wilson is at his best when failing to pull off the many tricks and sleights-of-hand his act requires. With Rachel Sledd as the sexy Calibana, he shares an amusing repartee of missed cues and lost opportunities. Sledd, meanwhile, proves with her superior stage presence Calibana's assertion that "the assistant is really the main attraction."
Stephanie Nelson's set design makes for a beautifully arresting image, especially when contrasted against the vast open space of the stage. Stacy Ellen Rich dresses Calibana in everything from a lovely white sequined dress with a fur cape to an outrageously garish outfit of yellow and fuschia stripes, complete with a laughable matching bow. A three-piece band, Maestro Matic, delightfully provides original accompaniment and sound effects, amping the comedy. G.D. Smith projects images on an upturned hanging dress; Gwen Grossman produces a fine effect with extensive footlighting; and rabbits even run rampant after a hat trick goes typically awry.
Give Thirteenth Tribe credit for the will to experiment.
- Web Behrens -

Chicago Sun-Times, August 30, 2000
There is exemplary, hugely imaginative work from Maestro Matic, a trio of composer-sound designers (Doug Brush, Mark Messing and Oliver Steck) who provide a complex accompaniment to the show from their perch in a balcony box. Stephanie Nelson's colorful toy-theatre set, Stacy Ellen Rich's playfully kitschy costumes and Gwen Grossman's lighting (which help turn Calibana's hoop skirt into a movie screen) also are full of invention.
- Hedy Weiss -

Chicago Tribune, August 25, 2000
Preview: How To Be Sawed in Half

Chicago Sun-Times, August 25, 2000